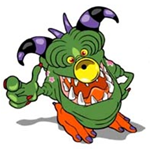 Vandaag heeft Monster voorbeurs de financiele resultaten over het derde kwartaal van 2013 bekend gemaakt. En het is wederom een gruwelijk slecht resultaat. De omzet implodeerde van $220,8 miljoen in Q3 2012 naar $196,8 miljoen over Q3 2013. Waar Dice en vooral LinkedIn sterke groeicijfers laten zien komt Monster met een krimp van maar liefst 11%. Alsof je een emmer leegggooit…
En als je vervolgens naar de geografische spreiding van die omzetontwikkeling gaat kijken, kom je tot de schokkende conclusie dat Monster buiten de VS maar beter de handdoek in de ring kan gooien. Want waar de VS met 'slechts' 5% krimpt, is het buiten de VS een bloedbad: –22% (constant currency). Dat is niets minder dan een drama.
De ondertussen van elke realiteitszin verstoken CEO, Sal Iannuzzi, zegt echter het volgende:
Our third quarter results were encouraging as we experienced stability in North America, protected profitability and continued executing on several important initiatives to enhance future growth. The stabilization we experienced in North America in the second quarter continued and we are cautiously optimistic that this positive momentum will result in sequential revenue growth in North America in the fourth quarter of 2013.
Kijk naar je concurrenten man! Die groeien!! Je doet het dus gruwelijk slecht!!!
Monster heeft niets minder dan een wonder nodig om nog enige relevantie in de markt te behouden. En dat wonder komt hopelijk in de financial analist call naar voren, waarbij voor het derde achtereenvolgende kwartaal ongetwijfeld de woorden key initiatives and very strategic initiatives gebruikt zullen gaan worden om de toekomst van Monster op te kloppen. Dit is wat Iannuzzi hierover een kwartaal geleden zei:
What I can tell you at this time is we have a number of very strategic initiatives underway, which we believe will substantially move the company forward and really challenge the competition broadly, in new ways that we haven't done before. I don't want to be mysterious about it but I really don't want to disclose our strategy too early. But we are making a lot of progress, and probably towards the end of the year, sometime in the fourth quarter, and if we feel we're not ready, we'll do it in the first quarter […]
Cliffhanger anyone? Hij zal deze keer toch met iets concreters moeten komen om zijn gezicht te redden, want je kan niet eeuwig blijven schermen met vage beloftes.
Overigens zegt de grapevine dat Monster met een gecombineerde people and vacature aggregator gaat komen, als een van die very strategic initiatives. Met natuurlijk 6Sense in het midden. Een fullest box, om het maar creatief te zeggen. We gaan het zien. En als het verleden enige indicatie is dan is er een zeer grote kans dat Monster dit grandioos gaat verprutsen. Want een goed idee is makkelijk, het gaat altijd om de uitvoering.