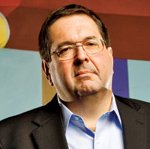 Dankzij een reactie hebben we de beschikking over de nieuwjaarmail van Sal Iannuzzi (CEO Monster) aan klanten waarin CEO van Monster een tipje van de sluier van de mysterieuze 'strategic initiatives' optilt. Maar voordat ik daaraan toekom eerst even wat Iannuzzi zei tijdens de presentatie van de cijfers over het tweede kwartaal van 2013:
What I can tell you at this time is we have a number of very strategic initiatives underway, which we believe will substantially move the company forward and really challenge the competition broadly, in new ways that we haven't done before.
Jawel! very strategic initiatives die de competition gaat challengen. Grote woorden van de man onder wiens leiding Monster is afgegleden van global leader naar het slechtste jongetje van de klas. Met een ongekende vernietiging van beurswaarde tot gevolg. Maar Iannuzzi gaat zorgen voor betere tijden…
En nu zegt hij in zijn email het volgende:
We have also been working hard on a number of initiatives intended to strengthen Monster for the long term, and to further enhance the value we deliver to you. Over the coming months, we will share more with you about the new things we have planned. I'm confident that these initiatives will provide you with even better, more efficient ways to find, recruit and manage talent.
En dat "even better" slaat op dus nog betere manieren om te recruiten dan de 6Sense matchingtechnologie van Monster.
Bij de presentatie van de cijfers over het derde kwartaal van 2013 wist ik dit te melden over die strategic initiatives:
Overigens zegt de grapevine dat Monster met een gecombineerde people and vacature aggregator gaat komen, als een van die very strategic initiatives. Met natuurlijk 6Sense in het midden. Een fullest box, om het maar creatief te zeggen. We gaan het zien. En als het verleden enige indicatie is dan is er een zeer grote kans dat Monster dit grandioos gaat verprutsen. Want een goed idee is makkelijk, het gaat altijd om de uitvoering.
En gezien de opmerkingen van Iannuzzi in zijn email zal het me steeds minder verbazen als blijkt dat Monster in navolging van Dice een people aggregator heeft gekocht. TalentBin wordt al enige tijd in verband gebracht met CareerBuilder, maar voor hetzelfde geld is Monster haar concurrent te slim af geweest. Of anders zijn er nog Entelo, Gild en enkele andere partijen die vast niet vies zijn van een lekkere payday.
Ik hoop in ieder geval dat Monster niet zo dom is geweest om zelf weer iets in elkaar te gaan prakken. Je mag toch hopen dat ze hebben geleerd van de spectaculaire blunder die BeKnown was…