De consolidatiegolf binnen ATS talent management software is in haar overtreffende trap aangekomen met de overname van Taleo door Oracle. Waarmee de aandeelhouders van Kenexa en Lumesse ongetwijfeld natte dromen krijgen van de mogelijke winst die zij kunnen maken als SAP of andere ERP software leveranciers aankloppen. Of Salesforce? Wat allemaal zomaar zou kunnen.
Oracle betaald een krankzinnige multiple voor Taleo:
Oracle is paying about 136 times earnings before interest, taxes, depreciation and amortization, compared with the median of about 14 in 45 similar transactions over the past 5 years
Hiermee lijkt het er bijna op dat Oracle een bidding war heeft gewonnen. Of is de LinkedIn multiple tegenwoordig de norm geworden?
Tegelijkertijd is het een erkenning door Oracle dat ze niets hebben gebakken van hun e-recruitment oplossing. Wat in het geheel geen verrassing is. Ook al heeft Forrester zo'n twee jaar geleden dit functie-overzicht getoond: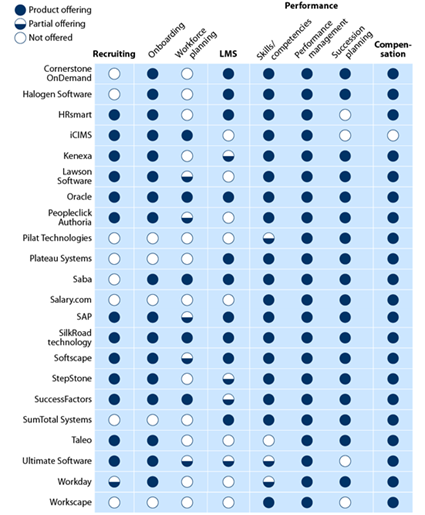 Het hebben van functionaliteit staat misschien niet gelijk aan het hebben van klanten. Wat ofwel een commercieel defect van Oracle is geweest, of ze hebben gewoon heel goed gelogen en Forrester is goedgelovig geweest. Hoe het ook zij; dit is een goed teken voor enkele ATS'en.
Met de overname is een bedrag van ruim $1,9 miljard gemoeid, oftewel ruim twee keer zoveel als de huidige waarde van Monster. Goeie hemel! En de door Oracle geboden prijs ($46) is ruim $7 boven de closing price van gisteren; een premium van 18% voor bestaande aandeelhouders. Waarbij het er ernstig op lijkt dat de laatste weken al enige frontrunning is gedaan: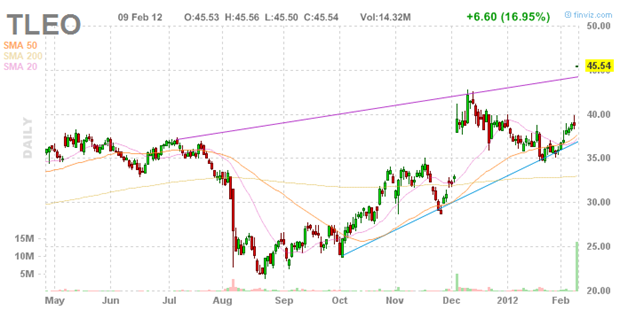 En wat krijgen voor al dit geld? Nou, volgens de officiele boodschap op de Taleo site het volgende:
Together, Oracle and Taleo expect to create a comprehensive cloud offering to help organizations improve the performance of their business by unlocking the power of their people.  The combination is expected to empower employees and managers to effectively manage careers throughout their entire employment, enable organizations to retain talent and optimize costs, and improve the employee experience through faster on boarding and better collaboration with team members via social media.
De ratio voor deze overname zal in de komende tijd nog wel duidelijker worden. Ik ben in ieder geval zeer benieuwd waarom Oracle zo krankzinnig veel voor Taleo op tafel legt. Dat de twee bedrijven elkaar in potentie kunnen versterken is overigens overduidelijk. Of dat ook daadwerkelijk gaat lukken is een totaal ander verhaal.