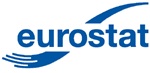 De werkloosheid over januari 2012 is in Euroland geëxplodeerd naar 10,7%. Hoewel; de vorige maand over december 2011 gerapporteerde werkloosheid van 10,4% is naar boven bijgesteld tot maar liefst 10,6%! Waarmee de stijging van januari ten opzichte van december ineens lijkt mee te vallen. Tenzij volgende maand er voor de zoveelste keer een serie bijstellingen naar boven te verwachten is…
Hoe dan ook, na de cijfers van het CPB zijn deze resultaten natuurlijk de tweede grote teleurstelling. Althans voor de blinde hersenlozen die geen acht hebben geslagen op de overduidelijk steeds negatiever wordende signalen. Mogelijk zijn dit dezelfde hersenlozen die om volstrekt onduidelijke redenen de AEX laten stijgen. Of is een aalmoes van ruim EUR 500 miljard via de LTRO soms een positief signaal?
In onderstaande grafiek zijn de werkloosheidscijfers van Duitsland en Nederland (twee relatief gezonde landen), Belgie en Frankrijk (twee kandidaten voor een bailout) en de PIIGS landen (Portugal, Ierland, Italie, Griekenland en Spanje; deze zijn reeds opgegeven):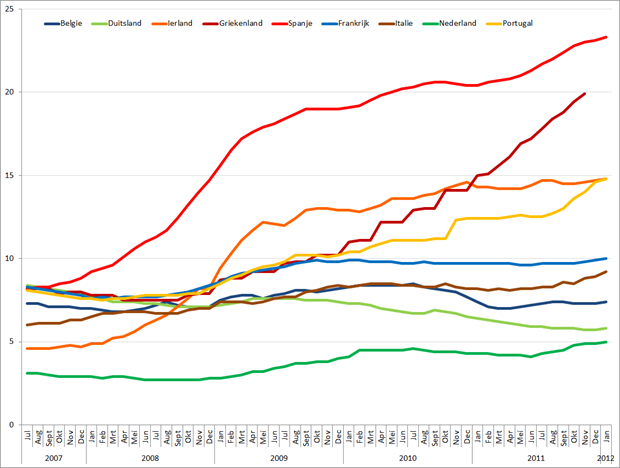 Werkloosheid geselecteerde Eurolanden (januari 2007 – januari 2012). Bron: Eurostat
Maar of het nu land nu relatief gezond is of niet; alle geselecteerde Eurolanden laten dit keer een groei van de werkloosheid zijn van december 2011 naar januari 2012. Dus ook economische outlier Duitsland. Opvallend…
De PIIGS landen staan er collectief zeer slecht voor; met uitzondering van Italie die overigens wel de laatste maanden weer zich versnellende groei van de werkloosheid laat zien. Hoe deze landen de door de troika vereiste extreme bezuinigingen kunnen realiseren zonder de werkzame beroepsbevolking te decimeren is voor mij een absoluut godsraadsel. Maar ga er maar vanuit dat het volstrekt niet haalbaar zal blijken te zijn.
Maar het is pas echt dramatisch gesteld met de jeugdwerkloosheid; zeker in de PIIGS-landen. Met wederom als dramatische koploper Spanje. Hier is de werkloosheid onder jongeren tot 25 jaar opgelopen tot 49,9%! Nauwelijks voor te stellen. In Griekenland (dat in haar rapportage twee maanden achterloopt) is het nauwelijks beter gesteld; hier staat de jeugdwerkloosheid voor november 2011 op 48,1%. Waarmee de twee landen elkaar nauwelijks ontlopen. In Portugal staat de jeugdwerkloosheid op 35,1% terwijl in Italie de teller op maar liefst 31,1% blijft staan. Een opvallende situatie omdat de totale werkloosheid in Italie op 'slechts' 9,2% staat. Daarmee lijkt er in Italie een wel zeer bijzonder situatie ten aanzien van de werkloosheid te bestaan. De jeugdwerkloosheid van het laatste PIIGS-land, Ierland, staat op 29,6%. Ter vergelijking; de jeughdwerkloosheid (volgens intermationale normen) in Nederland staat op 9,0%. Een schijntje als je dat dus met de PIIGS-landen vergelijkt. Hoewel ik het nog altijd een bijzonder hoog percentage vind.
Dankzij de zegeningen van de Euro en de nog altijd onaantastbare positie van de falende grootbanken wordt een groot deel van de jongeren binnen de beroepsbevolking opgeofferd. Een volstrekt bizarre situatie.