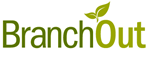 BranchOut heeft gisteren haar "nieuwe" gezicht getoond. Een gezicht dat in juli door CEO Rick Marini werd aangekondigd op het moment van de ineenstorting van het aantal gebruikers die het LinkedIn kloontje op Facebook op dat moment meemaakte. Marini was namelijk ineens tot inkeer gekomen. Groei (via ongekende volumes aan spam) was niet langer belangrijk; engagement was plotseling de rave:
"In order to build a product that's valuable for our tens of millions of users, we're de-emphasizing user acquisition for the next few months while we evolve the BranchOut experience to help our users express what they're doing in a professional capacity on a daily basis," the company says.
Op zich geen merkwaardige stellingname; tenslotte was het Facebook ecosysteem meervoudig platsgespamd met verzoeken tot registratie voor een applicatie die na registratie niets bleek te bieden. Phishing for contacts. En met die contacten heef BranchOut nu een basis van tientallen miljoenen 'gebruikers' in een poging om zichzelf opnieuw uit te vinden en wel relevantie te bieden. Als een personal/professional branding app… O ja, en er zitten vacatures in.
Hoor ik iemand LinkedIn zeggen? Jij hebt een vetlederen medaille verdiend!
Later een verslag van mijn bezoek aan het "nieuwe" BranchOut.