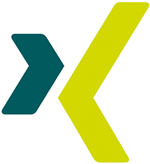 Op 6 augustus presenteerde XING haar resultaten over het tweede kwartaal van 2013. En tegen de verwachting (en verdrukking, met name van LinkedIn) in wist XING er nog een fatsoenlijk kwartaal van te maken. Natuurlijk staat het social professional network voor duitssprekenden in de steeds groter wordende slagschaduw van LinkedIn, maar ook daar is blijkbaar nog groei te realiseren. Hoewel LinkedIn er haar neus voor zou ophalen…
Maar op het eiland dat Duitsland, Oostenrijk en Zwitserland heet, is er XING nog altijd dominant. En in het tweede kwartaal perst XING er een YoY omzetgroei uit van maar liefst 15%. En dat is zonder meer indrukwekkend te noemen. Overigens liet LinkedIn een omzetgroei van 59% noteren. Da's nog iets indrukwekkender…
Waar ik vorig kwartaal nog wat nerveus werd van de afnemende YoY groei is dat voorzichtig omgeslagen in een wat rustiger gevoel door een stijgende YoY groei in het tweede kwartaal: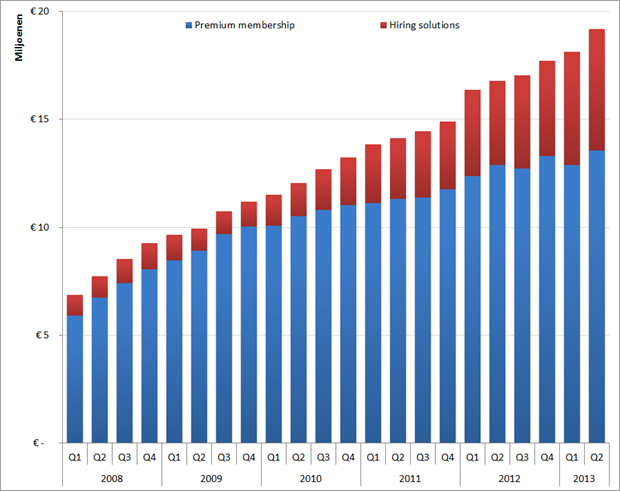 XING: Omzet voor Premium subscriptions en Hiring solutions per kwartaal, Q1 2009 – Q2 2013
Hiring Solutions liet een YoY omzetgroei van maar liefst 43% zien. De groei van Premium subscriptions daarentegen was een uiterst magere 5%. Zet dat eens af tegen de Premium subscriptions groei van maar liefst 68% bij LinkedIn… Het is voor XING te hopen dat Hiring Solutions dit groeipad kan doorzetten en het liefst nog aanzienlijk versnellen. Want zelfs met die 43% is XING nog lichtjaren verwijderd van de groei van LinkedIn's Hiring Solutions (69% YoY)…
Maar natuurlijk kan dit alles CEO Thomas Vollmoeller er niet van weerhouden om door een roze bril naar de toekomst te kijken:
XING has again accelerated its growth rates during the second quarter of 2013, and we expect to see this growth continue over the next few quarters.
En de goede man ziet ook een blijvende rol voor XING weggelegd:
XING is in an ideal position to act as a hub for our members' individual career paths. The world of work is currently seeing a fundamental shift, and we can offer our members clarity and guidance during these turbulent times
Die turbulent times kloppen binnekort ook ongetwijfeld aan bij XING. Want het social professional network lijkt steeds meer op een nijnagel aan het enorme lichaam dat LinkedIn heet. En een nijnagel knip je op een gegeven moment gewoon af. Ik vraag me oprecht af hoelang XING het nog gaat volhouden. Ik geef ze nog hooguit twee jaar…