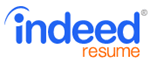 Begin maart 2011 begon Indeed met het verzamelen van cv's via haar CV upload service. In september 2011 kwam het bedrijf met de logische vervolgstap: de resume search service (ondertussen hernoemd naar Indeed Resume). Die op dat moment nog volledig gratis was. Maar dat is vanaf vandaag voorbij:
Employers can contact job candidates for only $1 each. Searching for candidates and viewing resumes are free. There are no signup fees, no subscriptions, and no contracts required. You only pay $1 for the first message that you send to each candidate, making Indeed Resume the most cost-effective solution for contacting job seekers.
En daarmee heeft Indeed een interessante nieuwe omzetbron aangeboord onder het motto: price it low, stack it high. Ik ben heel benieuwd welke impact dit gaat hebben op cv-database omzet van vacaturesites. En met welke impact bedoel ik natuurlijk de mate van de krimp van die omzet. Want dat is de enige richting waarin de omzet uit cv-databases zich nog maar kan ontwikkelen.