In een tijd waarin volledig automatische match-engines met recht en reden een steeds twijfelachtiger reputatie krijgen, is het dapper om te zien dat er een site is die volledig vertrouwd op een 100% automatisch matchingsproces waarbij mijn cv ook nog eens volautomatisch wordt geextraheerd. Als dat maar goed gaat…
Overigens is MyJobMatcher niet over een nacht ijs gegaan, althans, volgens eigen zeggen:
Because we have spoken and listened to thousands of job seekers who told us they wanted an easier way to find a better job.
Toe maar, duizenden werkzoekers waarmee is gesproken en waarnaar is geluisterd. Dan moet ik me wel vergissen en ga ik zo de sollicitatie-ervaring van mijn leven meemaken. Spannend…
Homepage
Dit is de homepage van MyJobMatcher: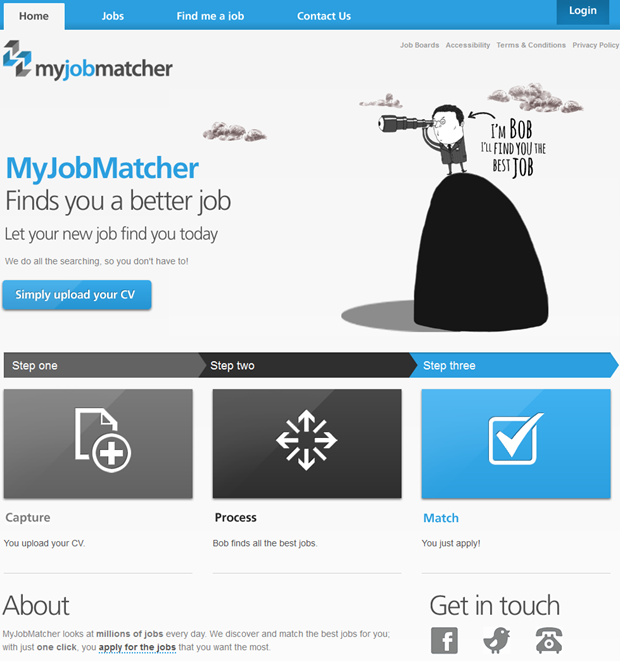 Jawel, Bob staat voor mij op de uitkijk om de beste job te vinden. Dat is een hele geruststelling. En Bob zegt maar drie stappen nodig te hebben; ik moet mijn cv uploaden, vervolgens gaat Bob de beste vacatures voor mij vinden en het enige wat ik nog hoef te doen is op die fantastische vacatures solliciteren. Die Bob toch, ik zou hem bijna omhelzen.
Onderaan de webpagina staat ook nog een keer vol trots wat MyJobMatcher voor mij gaat doen:
MyJobMatcher looks at millions of jobs every day. We discover and match the best jobs for you; with just one click, you apply for the jobs that you want the most.

We don't just work with the "big boys". We work with boards of all shapes and sizes and cover just about every market, meaning you get to see great jobs you would never find on your own.
Ziedaar, dus ook nog eens een gigantisch vacature-aanbod. Miljoenen vacatures maar liefst… Daar zal er toch wel eentje voor mij tussen zitten?
Laat ik dus maar snel op die knop Simply upload your CV klikken: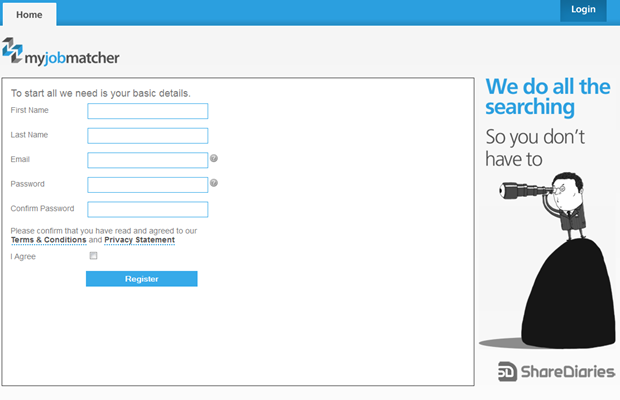 Niet helemaal waar dus, want ik moet een aantal gegevens invullen. Nou ja, deze volgordefout zullen we MyJobMatcher maar vergeven, tenslotte gaat Bob voor mij de beste vacatures vinden.
Als ik mijn gegevens heb ingevuld en op Register geklikt, krijg ik vervolgens dit te zien: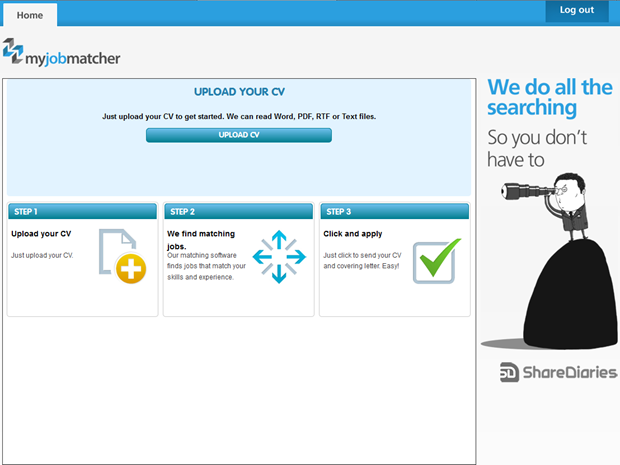 Nou, daar gaan we dus voor de tweede keer, ik klik op de Upload CV knop en bied vervolgens een PDF van mijn LinkedIn profiel aan. Inderdaad, MyJobMatcher heeft, om volstrekt onduidelijke redenen, geen koppeling met LinkedIn gelegd. Dat is toch wel bijzonder dom.
Maar na het verweken van mijn LinkedIn profiel via een PDF komt MyJobMatcher met het volgende resultaat terug: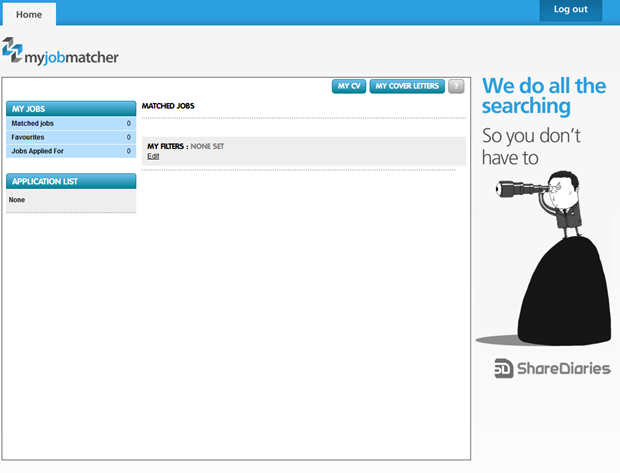 Die Bob, zou hij nou werkelijk in die miljoenen vacatures er niet eentje hebben kunnen vinden die op mij van toepassing was?
En waarom kan ik zelf mijn informatie niet zien of manipuleren? Of alsnog zoeken naar vacatures. Heeft Bob zoveel vertrouwen in de eigen capaciteiten dat hij geen enkele mogelijkheid aan de bezoeker biedt om zelf zijn/haar weg te vinden?
Conclusie
MyJobMatcher is inderdaad de zoveelste volledig zinloze implementatie van een matching engine. Het sluit de gebruiker buiten (voor haar/zijn eigen bestwil?) en slaat daarmee de plank volledig mis, zoals bovenstaand voorbeeld overduidelijk aantoont. Het maakt het proces van zoeken van een vacatures tot een black box. En welke van die duizenden werkzoekers zou daar nou om hebben gevraagd?
Nawoord
Het idee dat een volautomatische extractie van een cv met aansluitend een volautomatische matching van de gegevens uit dat cv met 'miljoenen' vacatures is in theorie natuurlijk heel aardig. Alleen is in het afgelopen decennium gebleken dat de het resultaat van extractie in combinatie met matching niet garant staat voor een uitstekende kwaliteit. Nog even los van het feit dat de werkelijkheid van het vinden van een baan een stuk complexer is dan het matchen van harde criteria (of zelfs competenties) van cv en vacature. Het is voorlopig een luchtkasteel gebleken.
Daarnaast is het uitsluiten van enige inbreng van de gebruiker een garantie op mislukking. Een gebruiker is namelijk een mens. En een mens staat niet te wachten op een machine die hem (of haar) verteld dat dit toch echt de ideale baan voor hem (of haar) is. Want dat wil die gebruiker graag zelf beslissen. Helaas is de arrogantie van de bouwers van matching engines zo groot dat ze daadwerkelijk denken dat ze het beter weten dan de gebruiker. Waarmee in ieder geval deze generatie matching engines ten dode zijn opgeschreven.