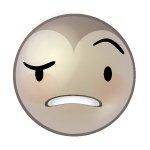 In de serie #fail stap ik in de schoenen van een sollicitant en ga ik websites van verschillende bedrijven af op zoek naar een baan. Regelmatig kom ik allerlei problemen tegen zonder ook maar één vacature te hebben bekeken. Een website die vastloopt, gigantische spelfouten en een uiterste sollicitatiedatum die al maanden is verstreken zijn hier enkele voorbeelden van.
Vandaag wil ik graag aan de slag bij Royal Canin. Dit bedrijf produceert (zeer prijzig) voer voor honden en katten. Aangezien mijn twee katten hun neus ophalen voor normaal geprijsd voer, moet ik maandelijks een vracht aan Royal Canin brokjes halen. Zo kwam ik tijdens de laatste keer op het idee om eens te kijken of ze bij dit bedrijf een passende vacature hebben.
Om bij de vacatures van Royal Canin te komen kan ik zowel boven- als onderaan de homepage terecht. Gek genoeg zijn er wel twee verschillende benamingen; 'Vacatures' (bovenaan) en 'Werken bij Royal Canin' (onderaan). Als ik doorklik kom ik er al snel achter dat je op exact dezelfde pagina uitkomt.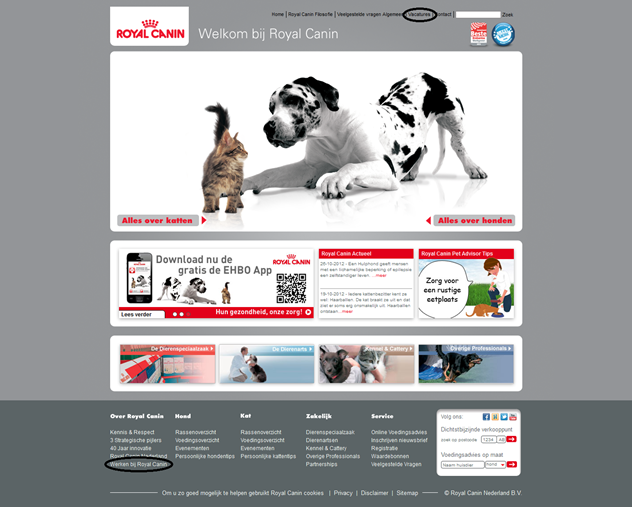 Ik klik bovenaan op 'Vacatures' en kom vervolgens uit op een simpele pagina: een kop, korte tekst en de actuele vacatures. Van de tekst word ik niets wijzer. Er staat eigenlijk een kort verkooppraatje en ik heb geen idee hoe het is om te werken bij Royal Canin. Maar er is nog iets veel vreemder. Onder de actuele vacatures staan er twee; Coördinator Verkoop Binnendienst en Rayonmanager Noord-Nederland. En als je vervolgens in het linkermenu kijkt staat er nog maar één!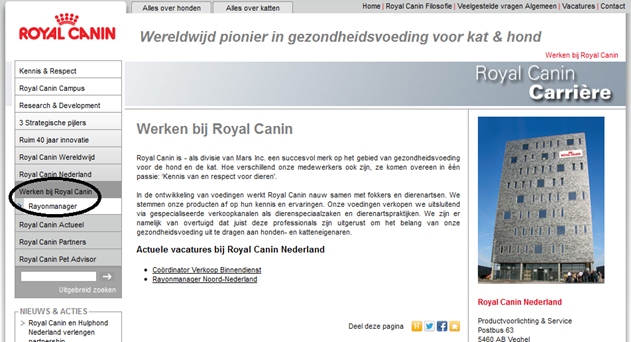 Een mysterie! Om er achter te komen waarom de vacature van Coördinator Verkoop Binnendienst is verdwenen klik ik er op. En dan komt de oplossing..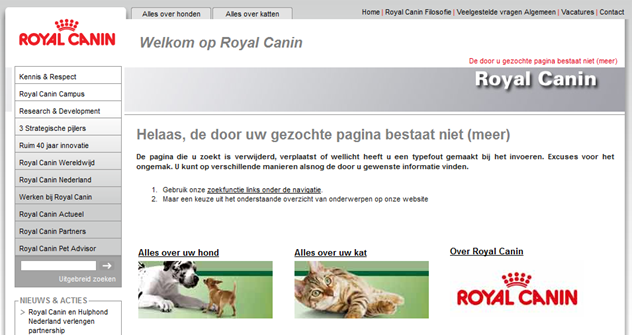 De vacature is waarschijnlijk ingevuld en de websitebeheerder heeft 'm wel verwijderd uit het linkermenu maar is vergeten de vacature uit de tekst te halen. Slordig.
Maar laten we niet vergeten dat er nog een vacature is! Snel kijken of dat misschien wat is.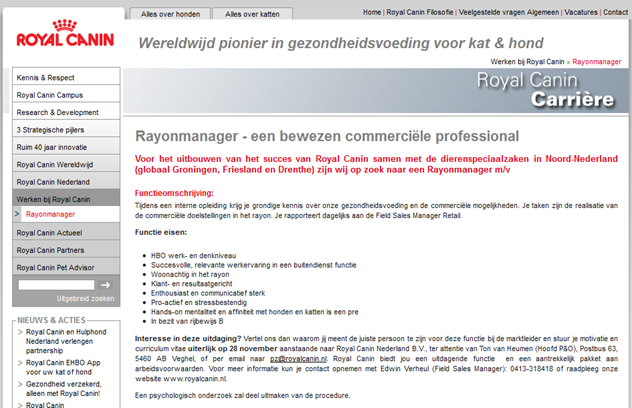 Wow! Ik zou het zeer knap vinden als je met deze informatie enig idee zou hebben op wat voor baan je solliciteert. Er ontbreekt meer dan dat er wel staat. Gelukkig weten ze nog wel te melden dat je eerst een psychologisch onderzoek moet ondergaan.
Royal Canin is een onderneming van Mars Inc. Aangezien deze organisatie qua omzet op één staat in de petfood-branche, lijkt het me verstandig dat er iemand wordt aangenomen om dit deel bij Royal Canin op orde te brengen.