Via Betalist kwam de annoncering van Privy voorbij, die daar als volgt werd omschreven:
Privy is every recruiter's digital assistant: it automatically monitor candidate profiles in many different networks (Linkedin, Github, Angellist, etc) and prepares a daily report of the ones likely to be looking for a new job. You can then focus on reaching out for the right people, increasing response and conversion rates.
En zeg nou zelf, wie wil er nou niet automatisch op de hoogte gesteld worden van kandidaten die van passief naar actief transformeren? Een no-brainer.
Maar hoe zorgt Privy ervoor dat het allemaal zo makkelijk gaat?
Homepage
Dit is (een deel van) de long homepage van Privy: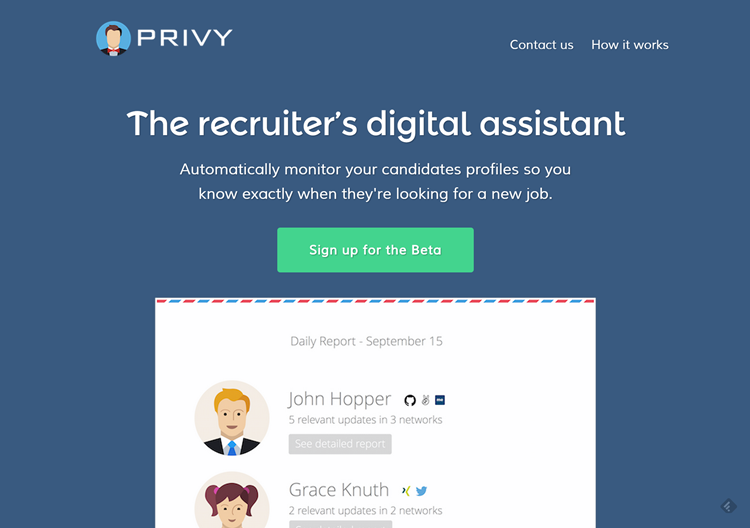 Smoelt lekker modern, maar van een mooi bord kan je niet eten. Dus hoe doet Privy nou dat "automatische monitoren"?
Het antwoord is iets lager op diezelfde long homepage te lezen: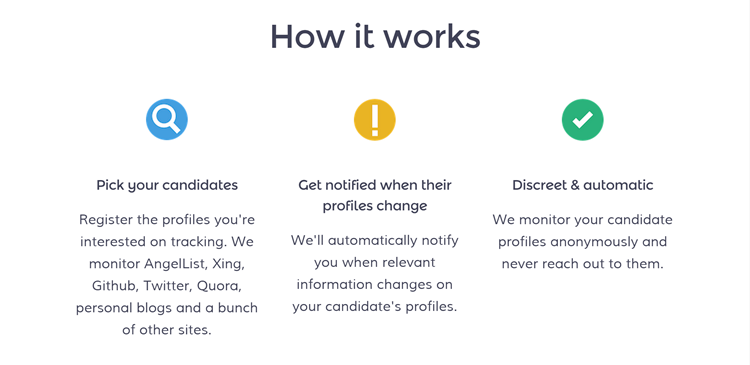 Crap! Ik maar hopen dat Privy een people aggregator is. Maar als ik het correct lees moet ik zelf de profielen van voor mij interessante kandidaten in Privy invoeren. En naar alle waarschijnlijkheid moet ik dan ook nog een keer de verschillende profielen van één en dezelfde kandidaat aan elkaar knopen. Dan ben ik dus mijn eigen people aggregator aan het maken, maar dan volledig met de hand…
Na die Sisyphus arbeid krijg ik van Privy notificaties als profielen veranderen. En dat is gebaseerd op de volgende gedachtengang:
It's simple, really: people start tinkering with their profiles when they start looking for a job. Look closely and you can notice the pattern: some skills added here, some bio changed there. Using a technique called Anomaly Detection, we can separate updates that correlate with career changes from usual day-by-day tweets, status updates and blog posts.
Jawel: Anomaly Detection! Dat klinkt natuurlijk fantastisch. Maar de proof of the pudding is in the eating natuurlijk. Alleen dan zullen we met zijn allen moeten wachten tot de uitnodiging voor de private beta in de bus valt. Want tot die tijd is het afwachten geblazen.