Ik heb altijd een haat(-liefde) verhouding gehad met Marketing mensen. In mijn optiek is het extreem extravert volk die het begrip product (/dienst) als een klomp klei zien die ze zelf in een vorm mogen kneden en het begrip klant gelijkstellen aan een ATM maar dat natuurlijk niet zeggen. In plaats daarvan zeggen zij dingen als: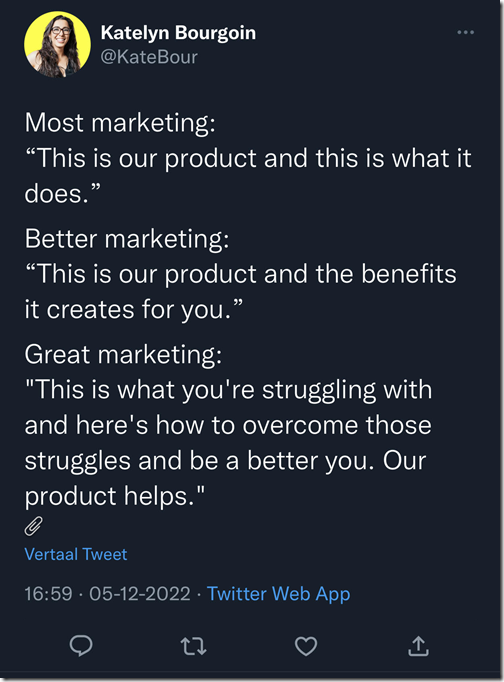 Most marketing: Klinkt tegenwoordig bijna als een frisse wind. Beperk je tot wat een product of dienst te bieden heeft en probeer te beschrijven wat dat zou kunnen betekenen. Het zou me niet verbazen dat veel potentiële klanten dit hogelijk zouden waarderen in plaats van bekogeld te worden met de braakballen die worden gegenereerd door Better en Great marketing.
Better marketing: Marketing denkt zomaar de voordelen van een product of dienst voor een klant te kunnen beschrijven. Best wel aanmatigend als je bedenkt dat marketing een product of dienst zelden zelf kan/(wil) gebruiken.
Great marketing: Ik zou dit als hyperbool marketing willen herdefiniëren. Of O&O marketing. Onzin en overdrijving. En dat zien we tegenwoordig opmerkelijk vaak bij reclames die om onze aandacht schreeuwen, producten aanbieden die we niet nodig hebben en dat alles om maar economische groei op basis van het BBP mogelijk te maken. Want daartoe is marketing op aard. In het licht van waar onze planeet mee worstelt is het misschien een idee om afscheid te nemen.